Applied Perception and
Service-Learning Project2002
(Perception: PSY440)
The goal of a service-learning project is toenhance learning by sharing with others and actively reflecting onthe process afterward. The community, or "others" involved shouldalso benefit from this interaction. On April 24th the classinteracted with seventh-graders from a local middle school (TJR). Seebelow for more more details and a link to photos from thevisit.
Service-learning projects are one way toapply what we know from research about perception to needs outsidethe classroom. There are many other areas where applied research isbenefitting individuals in society at large. This course will alsoemphasize such applied areas, and as their first paper, the studentswill each summarize the current status of an area of appliedperception research (see below for links to these papers).
Finally, as part of this course, theindivdual students will do some background research and develop aproposal for an original research project (see below for links tothese papers).
Since all of the above will be documented onthis webpage, it will be updated as the semester progresses. If youare interested, the webpages from previous classes are alsoavailable: 1997, 1998, 1999, 2000
Return to Perception 440 information page.
The Class: (or click here for our fun photo)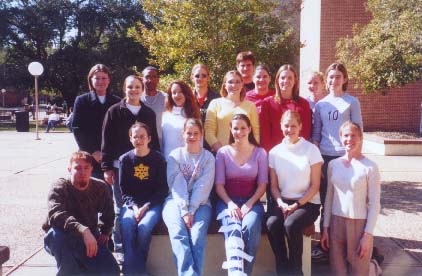 Back Row: Annie Nicholson,ChrisFrazier, Todd Yarbrough, James Blackshear, Donia Nolan, MeganAnderson
Middle Row: Sarah Penn, Kristen Turner, KatieBrockie, Candace Palmer, Cari Denby
Front Row: Ian Norris (TA), Jana Vinson,Leah Herrell,Emily Stover,Amber Stary, Dr. LaurenScharff
Papers on Topics in AppliedPerception
Also, check out a paper written as part of an independentresearch project by one of the students in this class:
by Donia E. Nolan
---
Visit to TJR MiddleSchool!
On April 24th, the class visited TJR MiddleSchool, made handouts and gave presentations, and interacted withseventh-graders in Mrs. Leah Kahn's science class. The interactionsinvolved many demonstrations to help the students understand somebasic principles about perceptual processing and some of the effectsof perceptual aging. Click here for photos of our visit!
---
ResearchProposals
The final major assignment thissemester was an experimental write-up of a proposed, originalresearch project related to some topic in perception.
---
Go to Scharff front page.